💡 Comment is available for both token and row based projects.
We understand that communication is an essential component of the labeling process. We created the comment feature to help teams produce fun and productive collaborations between all their members. You can also utilize the comment feature in your own personal workspace, as well!​ (
See this Youtube video for visual instructions on how to leave comments
).
So how do you leave a comment on a label? First, highlight the label you would like to comment on and then right-click on that highlighted label. This window will then appear which gives you two options: "Delete label" and "Comment." Choose "Comment." From here you will be able to now write your new comment. If you wanted to merely see the existing thread for the label, you will be able to see all the previous comments made here.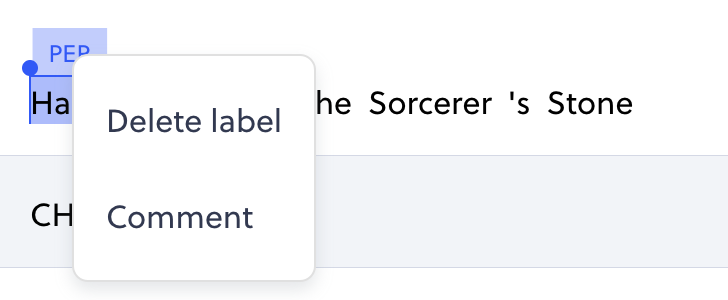 You do not have to click on each label with comments to access the subsequent thread. You can also open the comments from the "Comment List" icon. You'll find this icon in the upper right-hand corner beside the "Share" icon. The "Comment List" consists of all the comments that are available inside that file.
Resolving a comment can be done by clicking the check icon beside the comment item. In terms of who has this privilege: even a labeler is able to resolve comments.
Once the user has chosen to resolve the thread, that comment item will be moved inside the resolve section. The comment will disappear from the text editor and can only be accessed from the "Comment List."
Does a previously resolved conversation need to be revisited? You can reopen these comment threads. Re-opening a comment thread can be done by clicking the button found inside the triple dot menu. It can only be done if a comment has been previously resolved.​
Delete action can only be done by the
Admin or comment creator
. It can be done by clicking "Delete" from the tripple dot menu.
You can also comment on a token or span of tokens. Same as leaving a comment on a label, highlight the token(s) you wish to leave a comment on and right-click on the highlighted portion.
In a row-based project, right-click on the cell that you would like to comment upon and you'll see the option appear immediately. Additionally, you can comment on an empty cell to coordinate with teammates on the best label for that question!